Customized

Online

Instructor-led

Onsite
Corporate Training
develop data science skills in you team
Why should you invest in your employees to learn data science?
In this era of digitalization, the exponential growth of data is transforming the business landscape. Today, employees with the skill set to develop data-driven solutions are game changers to achieve strategic goals for sustainable growth and innovation in the organization. Businesses are struggling to find such professionals as the industry is facing a huge talent gap, which is expected to widen due to the lack of alignment between traditional education and industry-required skills. A global reskilling revolution is evident to address this challenge. It is a proven fact that learning a new skill is much easier than acquiring business or domain knowledge, so the industry is focusing on upskilling employees with skills tailored to their business needs.
Our Philosophy of data science program:
Out client's success is our success. We want our clients to get maximum benefits from the training and our philosophy revolves around these five main principles:

Personalized Instructions

Studies have shown that instructor-led hands-on training is the most effective approach to learning new skills. Our programs are led by top-tier data educators who are also working with the industry as consultants, advisors, and data scientists. They understand what needs to be delivered and how to maximize your ROI.

Case Based Content

The content we create for your customized training is practical and addresses your business needs. We prefer your data so that your employees work with the case which solves your company's real-life business problem.

Direct Impact

We believe in quality and transparency and prefer to embed your own business challenges into the training material. When your employees work with the data, they are familiar with and have the domain knowledge, they ask the most relevant questions to potentially generate practical and real-time business results.   

Social Learning

We promote a growth-oriented mindset and provide an inclusive learning environment that encourages the participants to work in smaller groups to learn from each other. This also improves the data culture and helps them to understand that data is an asset.

Measurable Results

From beginning to end, we assess every participant and evaluate their performance via a capstone project. Every participant [individual or in a group] presents the outcome and makes data-driven [initial] suggestions that could improve the business performance.
phases of our customized training development:
When it comes to developing customized training solutions or a program for your team, we work hand-in-hand with you and create a curriculum tailored to your unique organizational needs.
The solution development consists of the following four stages:
[Step 1] Discovery:
This stage involves engaging the key technical and business leadership in your organization to understand the most pressing problems so that we can hit the sweetspot and help your team grow with the required skillset.
[Step 2] Skill Identification:
In this stage, we identify the required skills that your team must have to solve business problems. We discuss the created skill matrix with the involved stakeholders and present why they are important for your team and how they will help your organization to grow.
[Step 3] Assessment Criteria:
To measure the direct effect of our trainings, we develop comprehensive assessment criteria which are well aligned with the individual department and the roles of the participants.
[Step 4] Deployment Strategy:
This stage is always an important and exciting moment for us as we meet with aspiring learners. We work to align with the management and develop the program deployment strategy by determining the best roll-out window and times. We want every participant to stay focused.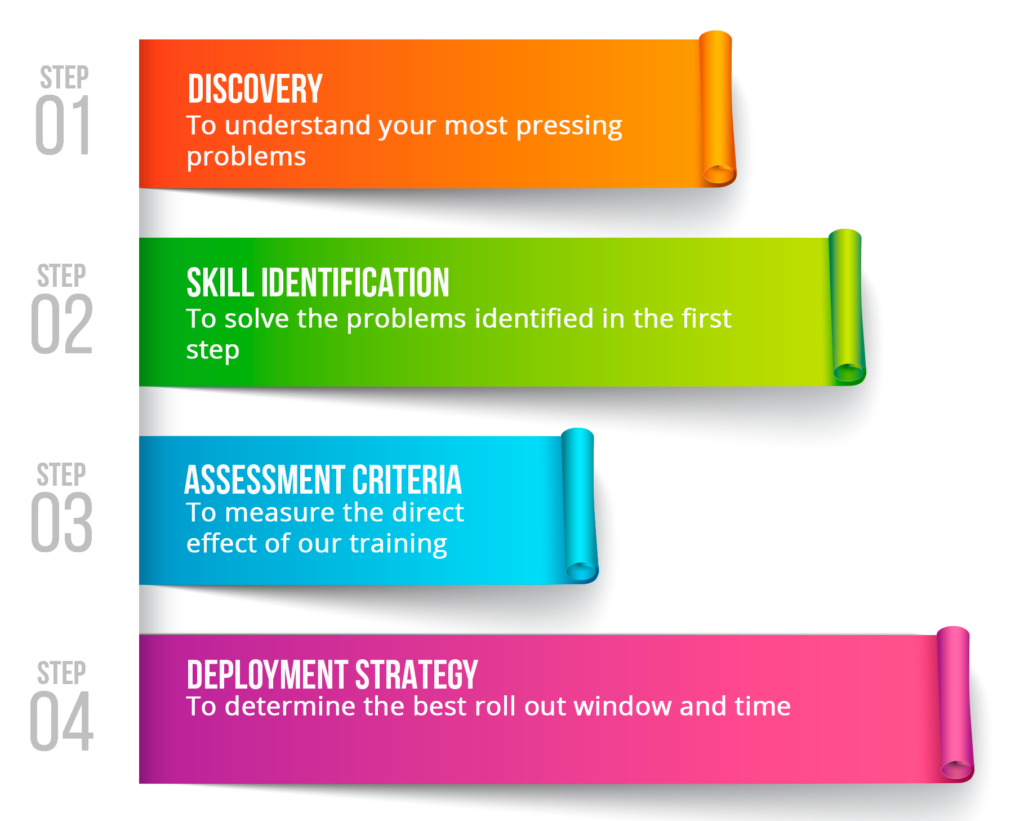 When it comes to delivery, our strategy is the most effective for our corporate clients. We deliver both in-class and virtual trainings, according to your needs and circumstances. We believe in "learning by doing".
Synchronous Part [Required]:
Typically, around 70% of our programs are synchronous and the participants attend the session with instructors, teaching assistants, and their peers to work collaboratively to learn and solve problems.
Asynchronous Part [Required]:
The remaining 30% of coursework is asynchronous and the participants pursue either individual or group work outside of the scheduled class or regular meeting time to cement their learning.
Private or Pooled Option [Optional]:
We understand that every organization is different and can have different needs according to its circumstances. We offer two types of training delivery options, and you can select that suits you best.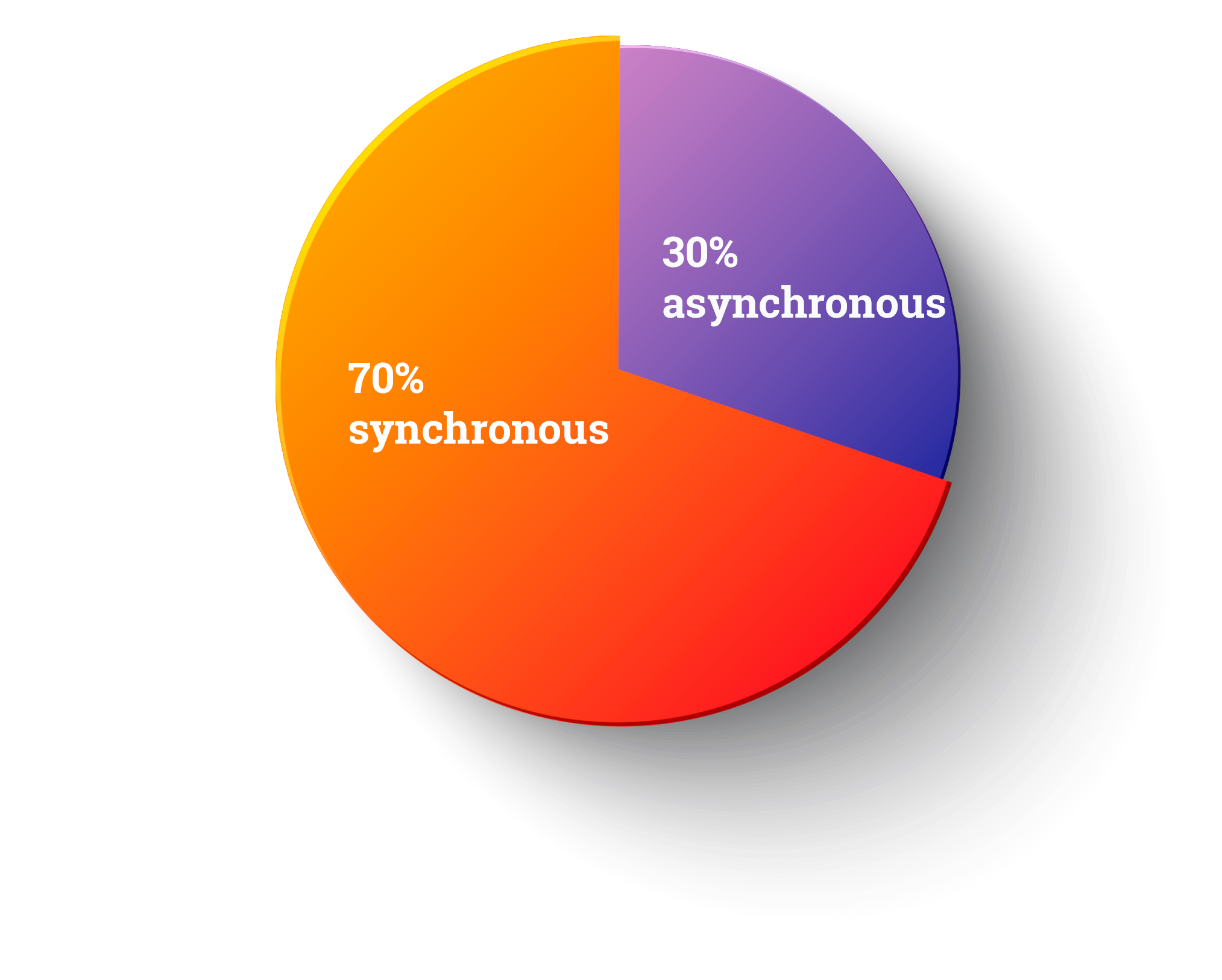 Private: In a private delivery, all the participants are from a single employer. This option is best suited for bigger organizations [more than 50 employees] or an organization with very specialized training needs. Most of the time, such trainings are more customized in terms of content and deployment strategy.
Pooled: In pooled delivery, along with the employees of the participating organization, external participants can also join. The external participants are permitted on merit. Pooled trainings are cost-effective and suitable for smaller organizations [less than 50 employees] or those who want to pre-screen potential candidates based on the offered training.
Our [proposed] offerings under the data science track:
Along with a series of seminars and workshops to improve the data culture in your organization, we offer the full spectrum of data science trainings. From non-technical frontline employees to technical workers and executives, we have covered you to make your digital transformation journey much smoother. Some of our offerings and their details are provided below.
| Training | Targeted Audience | Key Skills | Technology | Duration [hours] |
| --- | --- | --- | --- | --- |
| AI For Executives | CEOs, Directors, Managers, and other non-technical leadership | Data as an asset, AI and its role, effectively lead AI transformation, promoting data-driven culture, budgeting for AI, data-driven decision making, bias in AI, building and leading data science teams | No code however range of related technology for digital transformation will be introduced to the participants. | 25 |
| Python For Data Science | Everyone who got the passion to learn data science | Python programming essentials, working with data and data visualization using python | Python, numpy, pandas, matplotlib, seaborn, jupyter notebook | 40 |
| Advanced Analytics | Employees that work with spreadsheets, Business analysts, Product specialists, Project managers, Marketing analysts | Setting up and querying simple databases, data collection, A/B testing, formulating data tasks and converting data results into insights, dashboarding, report writing | Python, numpy, pandas, matplotlib, seaborn, plotly, dash, powerBI, jupyter notebook | 80 |
| Data Science and Machine Learning | Technical employees who want to learn and excel in data science and machine learning to solve hardest data problems | Full data wrangling life cycle, exploratory data analysis, causal inference, business statistics, business machine learning, fundamentals of deep learning, NLP essentials, report writing, presentation, communication, and drawing data-driven results | Python and associated libraries for data science, jupyter notebook, Scikit-learn, TensorFlow, NLTK, spaCy, CoreNLP and other related libraries | 160 |
| Data Engineering | Data analysts and software engineers who want to learn how data system works | Data architecture, data warehousing, data pipeline, and ETL, cloud architecture and ecosystems, big data processing, creating interfaces for working with data | SQL, Python, Spark, Big Query, Snowflake, RedShift, Tableau, and other related tools for data engineering | 120 |
| Creating Interactive Dashboards | Analysts and technical writers who wants to develop skills to create interactive dashboards | Accessing data from the databases, data processing, and creating interactive plots, dashboarding | Python, pandas, matplotlib, seaborn, plotly, dash, PowerBI | 80 |