Predesigned Program

Advanced Analytics

Interactive Dashboarding

Business Machine Learning
Data Science For All
bring your own data and witness the training outcomes
Why do you need to upskill?
Data is highly valuable digital asset than is only expected to grow over time. Enterprises are investing heavily in building strong data analytics teams to ensure sustainable growth, but finding appropriate talent to develop customized data-driven solution is a challenge. There is a significant talent gap, and training existing employees for new skills is advantageous for organizations, as they have domain expertise, making it easier to teach them new skills.
>> On right, statistics from World Economic Forum are shown [upskilling revolutions is inevitable!] <<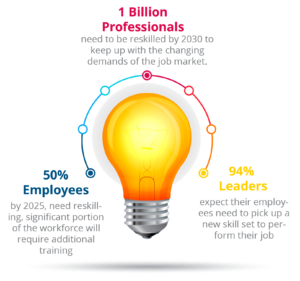 Our experts have developed globally accepted upskilling program tailored to industry needs, consisting of three modules. 
Advanced Analytics
Interactive dashboarding
Machine Learning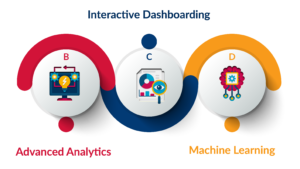 Skills gained through the program "Data Science For All" boosts productivity across the organization, from marketing and sales to engineering and executives.
Our philosophy for this training:
The offered program is well-accepted by our corporate clients. Our philosophy behind this program is "Bring Your Own Data" so that you and your leadership can see the impact of the program on day-to-day work.
Program/Training
Module
Key Skills
Technology
Duration [hours]
Data Science For All
Advanced Analytics
Data collection and preprocessing, exploratory data analysis, visualization, report writing, and presentation
Jupyter notebook, Python, numpy, pandas, matplotlib, seaborn
24
Dashboarding
Data analysis and interactive visualization, dashboarding
Plotly, dash, powerBI
24
Machine Learning
Regression, classification, clustering, natural language processing, recommender systems, ensemble learning, Artificial neural networks.
Scitkit-learn, TensorFlow
32